Charles Schwab is an innovative leader in the industry for making dramatic and decisive changes as they strive to be the best custodian, in terms of both value and service.
 This is why we have partnered with them, as they continue to put your needs first. During the difficult financial crisis in 2010, Schwab was the first to reduce the trade ticket to $8.95.  Since then they have lowered it to $6.95 and now they have done it again reducing the ticket charge to $4.95. 
This newly adjusted rates makes Charles Schwab one of the lowest in the industry.  Below is a chart that compares Schwab's new prices with other popular company's in the industry: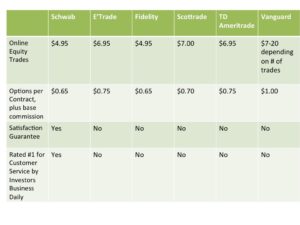 *Information from Charles Schwab & Co.
In addition to these new lower ticket prices, Schwab no longer has any investment minimums or shareholder servicing fees on all Schwab market cap index funds.  Please don't hesitate to contact us here at Aquinas Capital Advisors if you have any questions!